Bottle warmers and sterilizers
At Philips AVENT, we understand that feeding a baby may be one of the most meaningful things you do as a parent. Not only does a child bond with those who provide nutritious food, a firm foundation is built for a lifetime of good eating choices.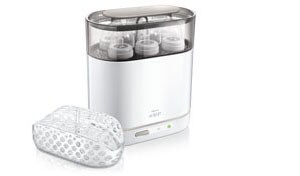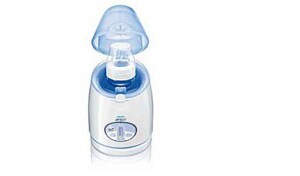 Sterilizers
Sterilizing is all about protecting your baby from harmful bacteria until his immune system is strong enough. Research has shown that it can take your baby up to a year to develop the same kind of immune system as adults. During this time sterilizing your bottles, breast pump, and soothers will give your baby that extra bit of protection.
The Philips AVENT Sterilizers use the hospital method of steam sterilization, which is quick, easy and efficient, with no chemicals involved.
See full range
Learn more about sterilisation
Bottle and Baby Food Warmers
It's a fact: babies don't like to wait. That's why the easy-to-operate Philips AVENT Bottle and Baby Food Warmers heat to a perfect temperature in mere minutes, without hot spots or scalding.
See full range
Philips AVENT Digital Bottle & Baby Food Warmer
Heating your baby's feed to the right temperature can be confusing - especially when your baby is demanding to eat. The advanced technology in this Bottle and Baby Food Warmer calculates the warming time for you. Simply select from the available options and the warmer heats the feed gently and evenly.
Philips AVENT 4-in-1 Electric Steam Sterilizer
Our new electric steam sterilizer has been designed to make sterilizing as simple as possible. The 4-in-1 sterilizer has an integrated dishwasher basket for hassle free pre-cleaning and an advanced display to keep you informed.
How it works

Indicate whether you are heating milk, formula or babyfood
Select starting temperature (frozen, refrigerated or room temperature)
Select quantity(in ml)

Due to its adjustable size, this 4-in-1 sterilizer perfectly fits the items you would like to sterilize and always takes up the least amount of kitchen space. The 4-in-1 functionality gives you:
1) Small size configuration for sterilizing soothers
2) Medium size configuration for sterilizing breast pumps, toddler plates, knives, and forks
3) Large size configuration for sterilizing 6 bottles
4) Integrated dishwasher basket for hassle free pre-cleaning of bottles and accessories
Product details