Eindhoven, the Netherlands - Royal Philips Electronics (NYSE: PHG, AEX: PHI) is delighted to receive 18 awards from the 2012 prestigious red dot product design competition.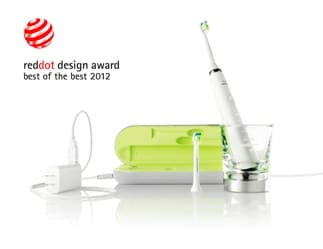 Awards include a red dot 'Best of the Best' award representing 'highest design quality' for the Philips Sonicare DiamondClean power toothbrush. This is a welcome result for a product designed to be the ultimate in form and function. "Throughout the process of designing this product we were aiming to bring the best possible product to market," explains Edouard Gebski, lead designer for the Sonicare DiamondClean power toothbrush. "We wanted to meet the highest expectations of product quality, design aesthetics, technology and usability, and we made no compromises to achieve this." Read more about designing the Sonicare DiamondClean and its unique features here.
An impressive 17 red dots representing 'high design quality' will be awarded to products across our Consumer Lifestyle, Lighting and Healthcare sectors, as well as Brand Licensing and our Philanthropy by Design program. Please see the full details of award winners here.
"These awards recognize and reflect the high quality designs being produced across Philips. Our people-centered approach to design and innovation is creating meaningful new products that make people's lives healthier, easier and more enjoyable," says Sean Carney, Chief Design Officer for Philips. "The Sonicare DiamondClean truly deserves the red dot 'Best of the Best' award. This product has achieved a new level of quality, simplicity and sophistication in its category."
View the slideshow with the winning designs and click here to download high resolution images of all the winning product designs.
About the red dot design awards
With more than 14,000 submissions from more than 70 countries, the international 'red dot design award' is one of the largest and most renowned design competitions in the world. The red dot jury is comprised of design experts of international repute, whose background allows them to consciously assess the special intercultural aspects of design. All award-winning products are presented an online exhibition and in the red dot design museum in Germany. Please click here for further information on the red dot awards.