Andover, Mass. – Royal Philips Electronics (AEX: PHI, NYSE: PHG) today announced global availability of Avalon Smart Pulse, the first technology to provide a new source for automatically detecting situations where maternal pulse may be confused with the fetal heart rate without the need to apply additional electrodes or sensors. The only company to offer this technology, Philips developed Smart Pulse to help clinicians make more informed decisions about delivering a baby. Smart Pulse is now available for customers in the U.S. after being introduced to international markets in May 2010.
Electronic fetal and maternal monitoring is used during pregnancy, labor and delivery to monitor the mother's and baby's heart rate, uterine activity and fetal movement, among others. Obstetricians use fetal monitoring because it is one of the few solutions that can be used before the baby is born to help evaluate the baby's well-being.
Traditionally, clinicians rely on two methods to measure maternal pulse: ECG and SpO2. In most pregnancies, however, these are not routinely monitored. In situations where ECG and SpO2 data is not collected, Smart Pulse automatically kicks in to provide the maternal pulse reading. Smart Pulse technology is built into the Toco MP transducer, the new uterine activity transducer, which is then routinely placed on the mother's abdomen to record uterine contractions during labor and delivery. Using a heart rate comparison technique known as "coincidence detection," the maternal pulse is continuously compared with the fetal heart rate and provides an important backup to the traditional ECG electrodes or SpO2 sensors, which may become disconnected or are often not used at all. Since Smart Pulse is part of routine monitoring and is "always on" by continuously calculating without the need for additional wires or sensors, it provides comfort for mothers.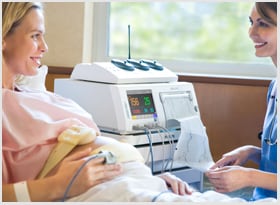 "During conventional fetal monitoring, physicians can often experience confusion between the fetal heart rate and maternal pulse, which can threaten the life of the baby if it goes unnoticed," said Roger Freeman, M.D., professor of Obstetrics and Gynecology, University of California at Irvine School of Medicine, Long Beach Memorial Medical Center, Children's Hospital. "An accurately monitored fetal heartbeat is crucial to improving the likelihood of a safe, healthy outcome for mother and baby. Smart Pulse is providing a much-needed backup that clinicians really need. It allows coincidence detection of heart rates to continue in cases when it previously would not have been possible."
With Smart Pulse, two maternal pulse sensors under the plastic surface of the Toco MP transducer scatter infrared light through the bottom layer of the transducer. This light is reflected by tissue and blood vessels. The pulsating diameter of small arteries causes changes in the reflected light. The measured light changes are evaluated and a maternal pulse is displayed and recorded.
"This is an important advancement in electronic fetal monitoring that will enhance clinician confidence that fetal heart rate and maternal pulse are not being confused," said David Russell, general manager, Mother and Child Care, for Philips Healthcare. "This is also about making a difference in the lives of mothers and babies. We are committed to developing solutions that help put these patients on the healthiest path possible."

In addition to Smart Pulse, the Avalon fetal-maternal monitoring portfolio offers several other key advantages, including:
Built-in optional Non-Stress Test (NST) Trace Interpretation, a Philips clinical decision support application for antepartum monitoring, which can help to improve efficiency and workflow by sorting out traces that require closer analysis by the obstetrician
The ability to monitor triplets on a single monitor, available from Philips in the Avalon FM series
Optional battery capability to enable fetal/maternal monitoring during transport in health care facilities
Optional external touch display on FM40/FM50, allowing flexible, ergonomic installations
True cableless monitoring, available with the Avalon CTS, that allows ambulation of the mother or bathing and showering while continuously monitoring the baby and the mother
Smart Pulse is now available as standard on new shipments of Avalon fetal and maternal monitors while an upgrade package can be purchased for all current Avalon monitor users.
Avalon fetal/maternal monitors connect seamlessly to OB TraceVue, the Philips obstetrical surveillance and information management system. The monitors are also compatible with a wide range of additional monitoring solutions, ensuring an easy fit into the obstetrics environment, and are available with a broad range of mounting solutions. For more information, please visit the Avalon fetal/maternal monitoring page on the Philips Mother & Child Care website.