Troubleshooting
The menu fails to appear on my Philips TV despite pressing the 'MENU' button on the remote control
Check the remote control:
Step 1-2
Replace the existing batteries with new ones.
Ensure the batteries are inserted according to the illustration in the battery compartment.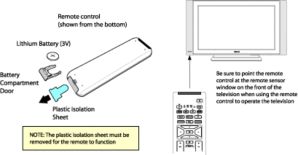 Step 3
Randomly test some other functions of the remote control on the television and ensure that the television responds by flashing the LED light.
When the remote control check is completed:
Press the [Menu] button and if the menu is displayed, the television is operating normally.
If the menu is not displayed, press the [Volume (+)] and [Volume (-)] buttons on the television simultaneously for 5 seconds or the [Menu] button on the television.
If the menu is displayed now, it appears that the remote control is defective.