Fall River, Mass., USA –Working closely with architect Mary Brewster and Evelyn Audet Lighting Design, Philips Lightolier has created a custom lighting solution for a Barrington, RI seaside cottage that not only maximized the commanding oceanfront view, but remained sensitive to the home owner's energy goals. The renovation project, which is currently featured in a new series on Emmy® Award-winning home improvement series This Old House® , enlists local craftspeople and manufacturers to transform the dark 1926 cottage. In the lighting design, Philips Lightolier's innovative Calculite 1.75" LED recessed lighting was featured, in conjunction with traditional lighting technologies such as halogen and fluorescent lighting. To further add to the ambience of the cottage and to the energy savings, the company added a dimming control that could easily be adjusted by the home owner.
| | | |
| --- | --- | --- |
| | | In the recessed lighting throughout the home, a number of insulated and non-insulated housing technologies were deployed to support the project's energy and environmental impact goals. LED technology gives the consumer extended life, effectively requiring little maintenance for as much as ten years. The light control afforded by Calculite's fixture design approach serves to minimize inter-reflections of glass and capitalize on the view of Narragansett Bay. Advanced wall box dimming technologies from Philips gave the residents personal control to set the mood, as well as the ability to illuminate tasks while complimenting the natural light changes throughout the day. |
"The This Old House Barrington Project is an exciting installation for us to demonstrate how lighting can set the mood and redefine light and space." said Evelyn Audet, president, Evelyn Audet Lighting Design. "We were eager to have the opportunity to use the latest in LED technology. Calculite 1.75" downlights were installed in the entryway to draw the visitor in before using a creative layering strategy throughout."

Known for its commercial downlighting, Philips Lightolier once again set the standard for innovation, quality and performance with the Calculite 1.75" aperture downlight. The Calculite provides consistent visual comfort, exceptional optical performance and mechanical precision. The combination of different aperture sizes and trim options, such as the adjustable slot, provided dynamic lighting effects that helped create a low glare environment with minimized fixture appearance in the ceiling.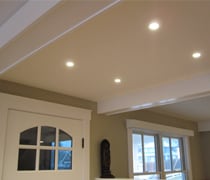 "The Barrington Beach restoration provided a unique collaborative opportunity to showcase how custom lighting solutions can enhance the look and feel of an overall project, even a seaside cottage," said Deborah Witte, director of product marketing, Philips Lightolier. "Our lighting solutions give specifiers such as architects and lighting designers, the flexibility they need to fulfill both their architectural and client visions. The Calculite 1.75" downlight is just the latest example with its scale and exceptional beam control, which allows designers to thoughtfully impact the architectural elements and not the environment."

For more information about Philips Lightolier products, please visit www.lightolier.com.