Servings
1 persons,
Preparation time
15 minutes,
Cooking time:
12 minutes
Ingredients
100 g flour
1 teaspoon instant yeast
½ tablespoon olive oil
50 ml tomato sauce
½ ball of mozzarella, sliced thinly
50 g salami, in strips
2-3 mushrooms, sliced
2 teaspoons dried oregano
Freshly ground black pepper
2 tablespoons Parmesan cheese, grated
Handful of arugula
Small pizza pan, 15 cm diameter, buttered
Instructions
Mix the flour with the yeast, a pinch of salt, olive oil and 60-75 ml water into a smooth dough ball. Knead this dough ball until it becomes flexible and elastic.
Preheat the airfryer to 200°C.
On a floured work surface, roll out the dough to an 18 cm round and put this dough round in the pizza pan. Fold the excess edge of the dough inward to form a crust.
Evenly spread the tomato sauce over the dough and place the mozzarella slices on top. Distribute the salami and mushrooms over the cheese. Sprinkle the pizza with oregano, pepper and Parmesan cheese.
Place the pizza pan in the fryer basket and slide the basket into the airfryer. Set the timer to 12 minutes and bake the pizza until golden brown.
TIP: Your pizza will be ready faster if you use ready-to-use pizza dough.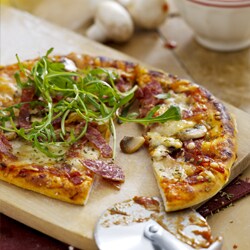 Our site can best be viewed with the latest version of Microsoft Edge, Google Chrome or Firefox.