Servings
4 persons,
Preparation time
5 minutes,
Cooking time:
30 minutes
Ingredients
4 good-quality chipolatas
4 rashers of smoked streaky bacon
1 teaspoon olive oil
150 grams of mushrooms, roughly sliced
a few sprigs of fresh thyme, leaves picked
16 cherry tomatoes
4 large free-range eggs
optional: bread, to serve
Instructions
Make sure the stirrer attachment is in place in the pan, then set the temperature to 250°C. Preheat your grill to high if you fancy toast.
Chop the chipolatas and bacon into 3cm chunks. Once the pan has heated up, add the olive oil and bacon and set the timer for 5 minutes. Once the time's up, add the chipolatas and set the timer for a further 7 minutes.Add the mushrooms and thyme leaves to the pan and set the timer for 5 minutes – all those meat juices will add great depth of flavour to the mushrooms. Add the cherry tomatoes and set the timer for a further 5 minutes. Once the tomatoes start to release their juices, carefully remove the stirrer attachment. Make four spaces in the pan and, one by one, crack the eggs into them. Set the timer fora final 5 minutes.
Meanwhile, if you're making toast, get your bread under the grill. Once the eggs are cooked, use a large metal spoon to divide the breakfast between your plates. Serve with the toast and all your favourite sauces.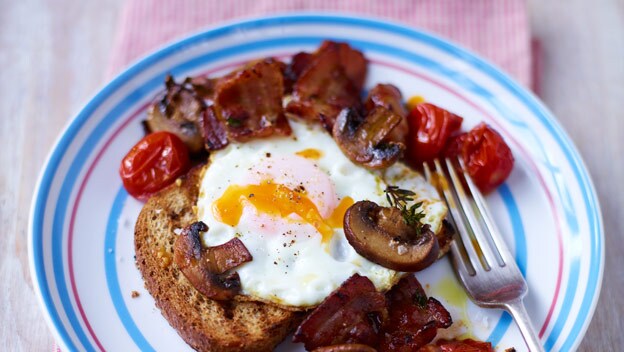 Our site can best be viewed with the latest version of Microsoft Edge, Google Chrome or Firefox.