Try making a dairy-free milk alternative at home with the Philips Soup Maker. Enjoy fresh almond milk, flavored your way, in 35 minutes. The Philips Soup Maker does all the work for you at a touch of a button.
Ingredients
1. 1 cup of almonds
2. ~5 cups water
3. Optional sweeteners ( 4 dates, 1-2 tablespoons of vanilla extract, 1-2 tablespoons of cocoa powder)
Instructions
1. Soak 1 cup of almonds for 6-8 hours in water.
2. Drain and rinse the almonds then pour into soup maker.
3. Add water to the soup maker and stop between the min/max lines.
4. Plug in the machine, put lid into position then press the milk based soup function icon to start the process.
5. When program is complete, the soup maker will beep and turn off automatically.
6. Once cooled, run finished ingredients through a fine mesh strainer, cheesecloth or use a nut milk bag to separate pulp from liquid. You can save the remaining almond pulp for another recipe, or discard.

Chef's tip:

If you don't care for almonds, you can use any other nut or seed. • For a sweetened almond milk, try adding up to 4 dates for the batch, then strain as directed • For a flavored almond milk, feel free to add a splash of vanilla extract for a vanilla milk after straining, or 1 to 2 tablespoons of cocoa powder for a chocolate milk.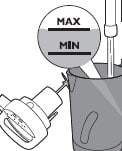 Step 1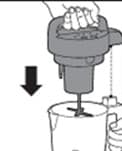 Step 2