Creamy fish surprise
Servings
4 persons,
Cooking time:
35 minutes
Ingredients
1 small leek
50 ml coconut milk
½ teaspoon laos (ground galanga root)
1 garlic clove, finely chopped
3 cm piece of ginger, finely chopped
salt and pepper
4 large iceberg lettuce leaves
4 organic cod fillets of approx. 150 g
250 g Pandan rice
1 lemon grass stalk, chopped and crushed
1 teaspoon green tea leaves
Instructions
Remove the outer leek leaves and cut lengthwise into 4 strips. Cut the rest of the leek into very fine rings.
Place the coconut milk in a bowl and stir in the laos, garlic and ginger. Season with salt and pepper.
Distribute the leek rings among the centres of the lettuce leaves and place the cod fillets on top. Then pour on the coconut mixture. Fold the lettuce leaves over the fish and bundle with the leek strips.
Add the tea to the flavour booster. Put the rice, lemon grass and 350 ml of water in rice steaming tier and place on steaming tier 1. Place the fish wraps on the rice.
Set the timer for 20 minutes and cook the fish wraps and rice until done. (Stir the rice once after 10 minutes.) Remove the lemon grass from the rice before serving.
Total preparation time approximately 35 minutes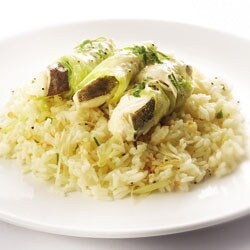 Our site can best be viewed with the latest version of Microsoft Edge, Google Chrome or Firefox.