Main course – 4 portions
Servings
4 persons,
Preparation time
20 minutes,
Cooking time:
20 minutes
Ingredients
2 slices stale white bread, in pieces
1 tablespoon (spicy) paprika powder
250 g chicken fillet, in pieces
1 egg yolk + 2 egg whites
1 clove garlic, crushed
2 tablespoons red pesto
Freshly ground pepper
Instructions
Grind the bread with the paprika powder in the food processor until you have a crumbly mixture and mix in the olive oil. Transfer this mixture to a bowl.
Then purée the chicken fillet in the food processor and mix with the egg yolk, garlic, pesto, and parsley. Add ½ teaspoon salt and pepper to taste.
Preheat the AirFryer to 200°C.
Whisk the egg whites in a bowl. Shape the chicken mixture into 10 balls and press them into oval nuggets. Coat the nuggets first with egg white and then with breadcrumbs. The nuggets must be coated with crumbs all over.
Put five nuggets in the basket and slide it into the AirFryer. Set the timer to 10 minutes. Fry the nuggets golden brown. Then fry the remainder of the nuggets. Delicious with French fries and a fresh salad.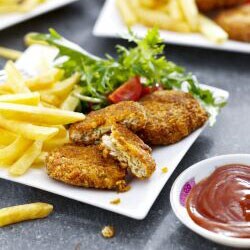 Our site can best be viewed with the latest version of Microsoft Edge, Google Chrome or Firefox.