Side dish – 4 portions
Servings
4 persons,
Preparation time
10 minutes,
Cooking time:
15 minutes
Ingredients
400 g slightly starchy potatoes, peeled
50 ml milk
50 ml cream
Freshly ground pepper
Nutmeg
40 g Gruyère or semi-mature cheese, grated
Instructions
Preheat the AirFryer to 200°C. Slice the potatoes wafer-thin.
In a bowl, mix the milk and the cream and season to taste with salt, pepper and nutmeg. Coat the potato slices with the milk mixture.
Transfer the potato slices to the quiche pan and pour the rest of the cream mixture from the bowl on top of the potatoes. Distribute the cheese evenly over the potatoes.
Place the quiche pan in the fryer basket and slide the basket into the AirFryer. Set the timer to 15 minutes and bake the gratin until it is nicely browned and done.
Serve the potatoes au gratin in squares with fish or roasts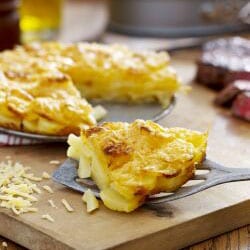 Our site can best be viewed with the latest version of Microsoft Edge, Google Chrome or Firefox.