SleepMapper App
Helps measure and monitor sleep
HH1600/00


SleepMapper App
Helps measure and monitor sleep
HH1600/00
Bundle bonus
Make it a bundle and get 1 item for free
Choose one of the following:
Choose one of the following products:
Add accessories
SleepMapper App
Helps measure and monitor sleep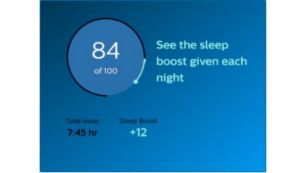 Track your sleep improvement with SleepMapper
The SleepMapper mobile app tracks your sleep patterns over time, measures key metrics and shows the slow wave boost you get from SmartSleep each night. Sync the app to your headband each morning to see the enhancement given each night. Please consult the Google Play Store or Apple App Store to check the compatibility of your operating system before purchase.
View trends over time
App provides data, trends and insights into your sleeping patterns.
Gain improved sleep through Sleep Tips
Changes to your sleep regimen can result in better daytime outcomes in energy, cognition and memory.
App Privacy
SleepMapper App is highly secure to help meet requirements for privacy laws.
App Development
Developed with researchers, engineers and consumers.
Technical Specifications
App

Available in

Support

Documents include

FAQ's and Troubleshooting
Our site can best be viewed with the latest version of Microsoft Edge, Google Chrome or Firefox.