Troubleshooting
How do I change the cutter on my Philips beard trimmer?
Changing the cutting units on your Philips beard trimmer is easy. Please follow the instructions below.
1) Remove the comb attachment
You do this by pulling at the bottom part of your trimmer.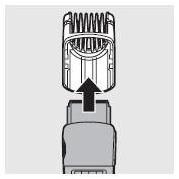 2) Remove the detachable cutting unit
You do this by gripping the ribbed side parts and pulling it off the trimmer.
3) Attach the precision trimmer
When using the precision trimmer, make sure that you hold the trimmer so that it points upwards.